An injection mould maker is a machine for producing parts by injecting at high pressure, usually plastic material into a mould. The plastic used are thermoplastic and thermosetting polymers. Material for moulding is conveyed into a heated barrel where it is mixed and then injected into a mould cavity where it hardens by cooling into the shape of the mould. Mould makers may be made of steel, aluminium and are themselves made with extreme precision so that the desired parts are created to match the design. Vice versa, those parts are also designed so that they are well suited  for injection moulding. The adaptability of injection moulding lies in this breadth of design consideration and possibilities, of both the injection mould maker and the item to be moulded.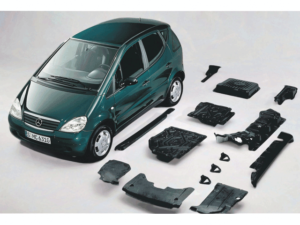 Injection moulding finds application in almost all manufactured items, from plastic bottles to car parts.
A quality injection mould maker (person) should support his customer right from the concept stage to the mass production stage. He should know what questions to ask and anticipate where he is going to face difficulties in the moulding process while the part is being designed
A quality injection mould maker should be complete and integrated and yet have a variety of systems for different applications.
It would by virtue of being a quality item, be assisted by robotic systems.
They should be environmentally friendly, and have energy and space saving features.
The manufacturers should offer technical support and systems for factory automation.
Water circuits in a mould maker should not be looped as this leads to warpage.
The quality mould maker (person) should be present at the design stage of the part to anticipate difficulties in mould making and design.
Use of 3D rapid prototyping from 3D computer models is useful in injection moulding eg. To design water cooling channels along the contour of the mould which improves the quality of the parts and improves cycle times.
An internal storage memory for 50 molds is available
Fault diagnosis with alarm messages is possible
The command control centre should be shielded against magnetic interference.
A weekly schedule should be incorporated.
A quality injection mould maker that is driven by an electric motor has the following advantages over a hydraulic moulding machine
A significant energy reduction of 40% to 50% is possible by electric compared to a hydraulic injection mould
Stabilization of the molding process is achieved by use of the servo motor in the injection process
Noise generation level is much lower.
Molding cycle can be shortened by using different motors for different stages of the moulding cycle and running them in parallel, like opening, closing, injection, ejection, and weighing
Injection speed can be increased
Since no oil is used, it is an environmentally cleaner process.
A digital display is always welcome
They should be low maintenance
A two year warranty which covers the replacement and or repair of any part that has a manufacturing defect.
Injection mold makers in China are supplying plastic injection moulding machines all over the world, at very competitive rates. They are also setting up offices all over the world to serve their customers better.